Sri Aurobindo and the Mother in Arabic
The Mother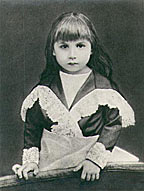 The Mother was born in in 1878 in Paris as the daughter of an Egyptian mother and a Turkish father. In childhood and adolescence, she studied piano, painting and mathematics. She had already as a child significant occult experiences that she only fully understood in later life. As an artist living in Paris, she became friends with many of the great artists of the Impressionist period. At the age of 26, she had several dreams of Sri Aurobindo, of whom she had never heard before. She later traveled to Algeria to study with the great occultists Max and Alma Theon, who helped her understand her own experiences.
In 1914, the Mother traveled to the French colony of Pondicherry in India, where she met Sri Aurobindo who was seeking refuge from the British there. After the break of the First World War in the same year, She had to leave India. She spent the following war years in France and Japan, but finally returned to Sri Aurobindo for good in 1920.
After Sri Aurobindo's withdrawal into total seclusion in 1926, the Mother took the charge of his ashram which she developed, organized and extended in the following fifty years. In 1950, the Mother founded the "Sri Aurobindo International Center for Education". In 1958, she withdrew to concentrate on what she called the "yoga of the cells". She gave an account of this yoga on tape to her French Disciple Satprem, and this account was later published as "Mother's Agenda." In 1968, the Mother founded the international city of Auroville, a few miles away from Pondicherry. She left her body in 1973.
Relevant links
https://www.sriaurobindoashram.org/mother/
http://library.sriaurobindoashram.org/mother/
https://www.auroville.org/contents/533
https://www.auroville.org/contents/527